Hét reisagentschap van Beveren en het Waasland
Joly Travel
Doorlopend open
ma-vr: 09u00 - 18u00
za: 09u30-17u00
Tel: 03/755 01 74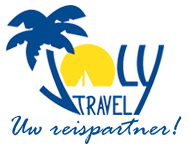 Onze Specialiteiten
Onze specialiteit is streven naar kwaliteit en persoonlijke service !!!

In de afgelopen jaren heeft Joly Travel zich tevens ontwikkeld tot een specialist op
cruises en verre reizen, in het bijzonder reizen op maat naar de USA en Canada.

Welkom bij dé specialist op Cruises

Bekijk ons cruise aanbod.

Welkom bij dé specialist op Amerika en Canada

Wij bieden u :
het grootste aanbod aan: meer dan 13000 hotels in de Verenigde Staten, Canada, Mexico, Caraïben en Costa Rica, waaronder prestige hotels, honeymoon hotels, historic landmarks, ranches, country inns, art en design hotels, …
een snelle duidelijke prijsofferte met foto's en een detailbeschrijving van de hotels.
meer dan 2400 speciale diensten om uw à la carte reis te vervolledigen: luchthaventransfers, limousines, excursies, ferries. Alsook huurwagens, motorhomes, Harleys, river raftings, scenic flights, shows, ….
Gunstige prijzen, doorgaans een pak gunstiger dan aanbiedingen via internet.
U kunt op ons rekenen voor hoteltips en reservaties van restaurants en evenementen.
Van ongeveer 9000 hotels kunnen we direct zien of er plaats is, met onmiddellijke bevestiging of werken we samen met betrouwbare partners.
Bij reservatie ontvangt u van ons gratis een Michelin Roadatlas
Meerdere keren per jaar gaan we zelf op pad om uit het enorme aanbod aan accommodaties, net dié uit te kiezen met de juiste prijs/kwaliteit, ligging, service & charme.
Bekijk ons aanbod Amerika en Canada
>Wie zijn we

Onze specialiteiten

Onze groepsreizen

Hoe reserveren

Hoe betalen

Luchthavenvervoer

Cadeaubons