Hét reisagentschap van Beveren en het Waasland
Joly Travel
Doorlopend open
ma-vr: 09u00 - 18u00
za: 09u30-17u00
Tel: 03/755 01 74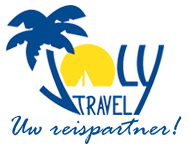 Wie zijn we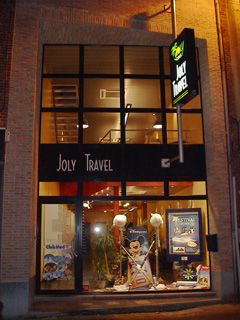 JOLY TRAVEL is een familiebedrijf met meer dan 30 jaar ervaring die alles in eigen beheer heeft. Meerdere keren per jaar gaan we zelf op pad om uit het enorme aanbod aan accommodaties, net die uit te kiezen met de juiste prijs/kwaliteit, ligging & charme.
Vanwege onze passie voor reizen, onze goede kennis, onze drang naar kwaliteit en onze persoonlijke service doen wij er alles aan om voor u de juiste reis samen te stellen.

KOM LANGS
Talloze reizigers gingen u voor en lieten hun reis door ons verzorgen. Velen stuurden hun vrienden en familie naar ons door. Dat zegt genoeg ….
We nodigen u uit voor een oriënterend gesprek. Dat kan telefonisch, maar veel liever nog ontvangen we u in ons sfeervolle pand in de Yzerhand 9 te Beveren.
Indien u dat wenst ontvangt u vervolgens een vrijblijvend reisvoorstel. Dat kan een vaste route zijn of een individuele maatwerkreis. Aan u de keuze.
Graag tot uw dienst en tot ziens !
Ons Adres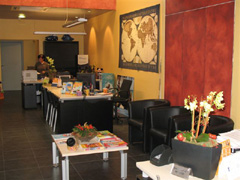 Joly Travel
Yzerhand 9
9120 BEVEREN
Tel: 03/755 01 74
Fax: 03/755 16 93
Openingsuren
DOORLOPEND OPEN !
Maandag tot vrijdag: 09u00-18u00
Zaterdag: 09u30 - 17u
Ligging
Beroepsgheim
JOLY TRAVEL houdt zich ertoe het beroepsgeheim te bewaren van de door u
geboekte reis of verblijf, zelfs als deze reis of verblijf niet gedaan werd, tenzij JOLY TRAVEL opgeroepen wordt om in rechte de getuigenis af te leggen of de wet JOLY TRAVEL verplicht die voorwaarden bekend te maken.
Verzekerd tegen insolvabiliteit
JOLY TRAVEL is aangesloten bij Amlin, zo bent u verzekerd tegen het financieel onvermogen (faillissement) van de reisorganisator en de reisbemiddelaar. Anders gezegd, het geld dat u betaalt, is in veilige handen.



>Wie zijn we

Onze specialiteiten

Onze groepsreizen

Hoe reserveren

Hoe betalen

Luchthavenvervoer

Cadeaubons